You are here
President of the CPVO visits the EUIPO in Alicante, Spain
On Tuesday 8 March 2022, Mr Francesco Mattina, President of the CPVO, met with Mr Christian Archambeau, Executive Director of the European Union Intellectual Property Office (EUIPO) in Alicante, Spain, to discuss ongoing cooperation between both organisations, and possible future synergies.
The CPVO and the EUIPO have enjoyed close cooperation over several years, and the signature of a new Service Level Agreement (SLA), which entered into force in July 2021, further reinforces this relationship.
The scope of this SLA covers a wide range ofactivities in different areas, such as data protection, internal audit, IT services, training, Observatory-related activities and HR selection procedures. The EUIPO also provides support to the CPVO Board of Appeal.
During this visit, the President of the CPVO met with the EUIPO Executive Director to take stock of their ongoing cooperation and discuss possible future synergies. Mr Mattina also exchanged views with the President of the Boards of Appeal, the Directors of the Observatory, Legal Department, Institutional and Cooperation Department and with the Data Protection Officer.
Together with the President of the Boards of Appeal Mr Joan Negrao, Mr Mattina discussed issues of common interest, such as the EUIPO Boa Action Plan 2021-2026, further cooperation opportunities, the Agency Appeal Proceedings Network (IAAPN) and the participation of CPVO to the IP Caselaw Conference 2022. Mr Mattina also met with the members of the BoA of EUIPO to exchange views on the work of the Board of Appeal in plant variety rights.
Both offices, which are part of the EU Agencies Network, look forward to continued success, cooperation and further strengthening their strategic partnership.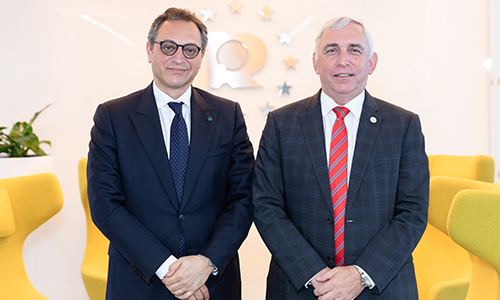 Mr Mattina & Mr Archambeau
Mr Mattina & Mr Negrao
Mr Mattina and Members of the BoA