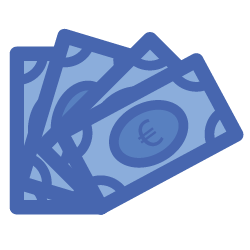 Please be aware that this page has been updated on 30/06/2023 to reflect the changes in the CPVO fees regulation which were published in the Official Journal of the European Union on 07/06/2023 and which will take effect on 01/07/2023 – more info.
In June 2023 the Fees Regulation was modified (by Commission Implementing Regulation (EU) n°2023/1104 of 6th June 2023) with regard to the amounts to be paid for annual fees and fees relating to the technical examination. The relevant amounts and details are explained in the Fees and Payments page.
You must pay the relevant amount in EURO by bank transfer to the following bank account:
CREDIT AGRICOLE DE L'ANJOU ET DU MAINE
Code banque
17906
Code guichet
00032
Numéro de compte
15866548000
Clé RIB
44
IBAN International Bank Account Number
FR76 1790 6000 3215 8665 4800 044
BIC Bank Identification Code / SWIFT
AGRIFRPP879
The Office will not accept neither cash payments nor cheques.
All bank charges relating to payments made to the Office must be paid by the remitter, except if you make use of a cross-border credit transfer with reduced bank charges. This system applies to bank transfers made in EURO for a maximum of € 50.000 within the European Union, indicating CPVO's IBAN and BIC.
Particular attention should be paid to the application fee, which covers the administrative processing of your application (including the granting of the right) within the Office. You are required to proceed as follows: when you file your application for a CPVR, you should also instruct your banking establishment (or post office) to transfer the application fee of € 800 in case of paper applications or € 450 in case of online applications to the Office's bank account. It is also strongly recommended to fill out the form "Details of Payment" in particular if you make a payment for several applications.
For all subsequent fees in relation to your application, the Office will send you a debit note, upon which the due date of payment will be clearly indicated.
The due date of payment reflects the date by which the payment of the fee must reach the Office's bank account. Payments, therefore, should be made sufficiently early so as to compensate for bank payment processing time which can be lengthy.